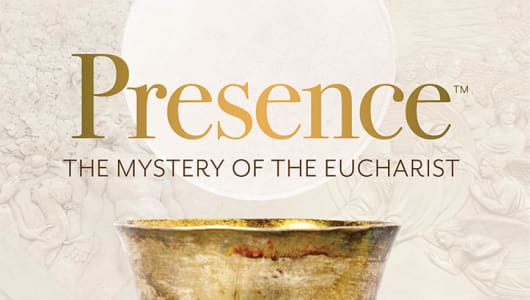 THE SACRAMENTS: Eucharist
Although the Eucharist appears to be simple bread and wine, it is actually the "source and summit" of the Christian life. Presence: The Mystery of the Eucharist explores the truth and beauty of Christ's real presence in the Eucharist, from its origins in Sacred Scripture, to its profound role in the life of the Church and her members. It is the crescendo of the entire story of salvation.
Also available in Spanish: Presencia: El Misterio de la Eucaristía.
Purchase study guides – at 60% off
Following our Lenten study: The Search, small groups and individuals are encouraged to check out Presence: The Mystery of the Eucharist. There are 3 regular episodes, one bonus episode, a special episode for children and one for parents preparing children for First Holy Communion.
"The sacraments are efficacious signs of grace, instituted by Christ and entrusted to the Church, by which divine life is dispensed to us." Catechism of the Catholic Church #1131
"The fruit of sacramental life is both personal and ecclesial. For every one of the faithful on the one hand, this fruit is life for God in Christ Jesus; for the Church, on the other, it is an increase in charity and in her mission of witness."
Catechism of the Catholic Church #1134
" . . . the sacraments push us to be missionaries and the apostolic commitment to bring the Gospel into every environment, even the most hostile, is the most genuine fruit of a regular sacramental life, because it is a participation in the saving work of God, who wants to give salvation to all." Pope Francis, General Audience, November 6, 2013